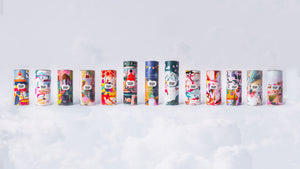 The Piece and Quiet Story
Piece and Quiet was started by two twenty-somethings searching for a way to relax and switch off from a busy life, struggling with burnout in an increasingly stressful world. In lockdown we rediscovered a passion for putting together oddly shaped pieces and the importance of taking a moment for yourself. However, we very quickly grew tired of the boring traditional designs and ran out of unique and quirky designs that we genuinely liked. We didn't think jigsaw puzzles had to be this way and saw an opportunity.
Piece and Quiet is an attempt to solve this. Helping people to discover new ways to relax and unwind, by partnering with talented artists to create striking and stunning contemporary art jigsaw puzzles you'll want to frame. Whilst at the same time communicating the mindfulness benefits of completing a jigsaw puzzle, as a relaxing way to be creative for the puzzler and simultaneously providing a platform to boost the profile of our talented artists.
Mindful Creativity
We all want to feel creative, but sometimes it can be hard to find that creative outlet, particularly if you're feeling burnt out. We want you to be able to express yourself, be fully present in the moment and feel that sense of accomplishment that you can only truly get from completing a stunning art jigsaw puzzle. We call it Mindful Creativity.
SHOP NOW
Talented Artists
We want to create beautiful jigsaw puzzles that would look great on your bedroom wall, or even above the fireplace. We've partnered with amazing artists who receive a fair royalty from each puzzle we sell. Every piece of art has its own story to tell and we aim to bring you closer to our talented artists, boosting their profile in the process.
LEARN ABOUT OUR ARTISTS
A Happier You
Piece and Quiet exists to provide mindful moments and to bring like-minded people together. We believe these mindful moments are the key to genuine happiness and fulfilment, and hope our community and their ideas can help us all become better versions of ourselves. We would love for you to join us on this journey.
SHOP NOW
Contact us
We would love to hear from you! Whether it's feedback on our products, a press enquiry or your very own tips for mindfulness, please get in touch. 
We'd also love to hear from budding artists to feature and partner with on future pieces, so please reach out and say hi!